The mobile body-type power station is designed to supply special purpose products with three-phase alternating current, 400V, 50Hz, from diesel-generator set or 380V, 50Hz, from supply mains.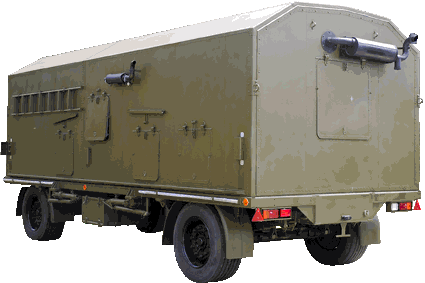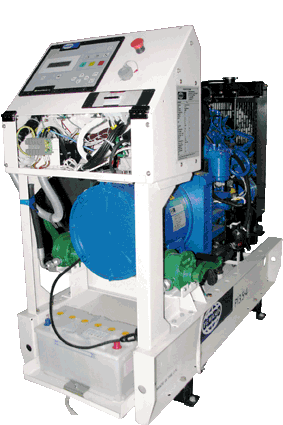 Design features:
· Power station is mounted into a van-body on the basis of KrAZ-trailer;
· Two diesel-generators Р100Р2 are installed endwise as power supply sources;
· Auxiliary diesel-generator Р13,5-4 is installed inside the body by left side as power supply
source during repair work;
· Power station is equipped with effective automation control system;
· Standby diesel-generator is energized automatically;
· Power station is equipped with automatic fire-alarm system;
· The warming of diesel-generators at low temperature from storage batteries in power
station ЭД80-Т400-2РКС is provided automatically with an air heater, and required temperature
in the body is kept with a fan heater;

The control system ensures:
· Performance control of diesel-generators and ancillary devices;
· Disaster protection and light-audio alarm at emergency state;
· Lighting and blackout mode (switching over from routine lighting in the
   body to blackout one when the open side hatches and entrance door).

Power station is moved by a truck on the basis of KrAZ-214 (KrAZ -255Б) or similar one.
Power station is transported by railway, water and air.
Delivery set:  Power station ЭД80-Т400-2РК, set SPTA-0 according to the spare parts list, container with
a cabling set, maintenance documentation set according to the list.
SE "SPC "Iskra" guarantees:  Personnel training, technical support within the radar service life, a full set
of maintenance documentation, replenishment of spare parts, repair of
assemblies and units.